The year-end holiday season is here again and we are getting busy with gift wrapping and greeting cards. Do you know that your label maker can be helpful with these social occasions as well? Use it to print labels on Christmas gift wrapping, or even make some pretty festival greeting cards. Get creative with various tapes and the customizable label templates, add a new layer of look to your holiday.
Print beautiful labels to personalize your gifts 
Get your beloved ones' names on your gift wrappings, or even use the continuous tape to add a personalized message on the top. A nice personal touch conveys the warmth of our gifts and blessing. A DIY finishing touch will surely make the gifting experience more unique and intimate.
Sending gifts to colleagues, clients and various other professionally acquaintances? The last thing you don't want to see is having the gifts mixed-up and sent to the wrong person. Use a label with their names or initials! It even looks more professional if you do so.
Experiment with the various colors and patterns that our tapes offer, and of course try out all the different things you can do with the customization options in the label printer's app!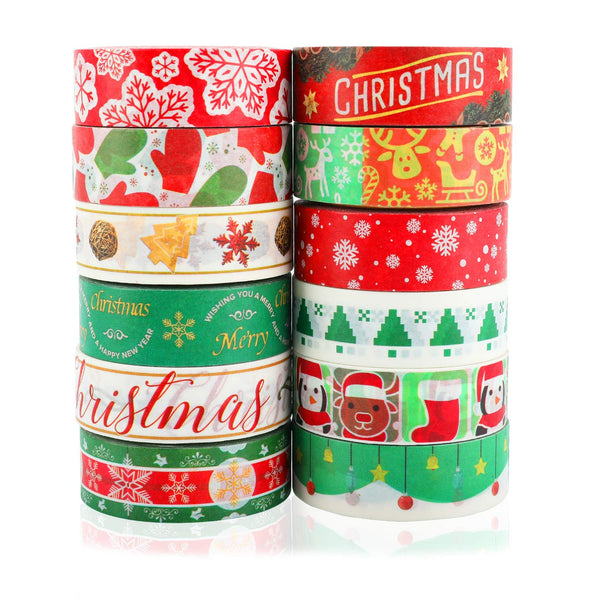 Craft personalized festival cards
Handwriting the small festival cards (whether as small greeting cards, or attached to the gifts) can be a laborious activity. Print them off with your label printer for simplicity! In this most hectic times of the year, With so much to do for a special and memorable holiday, time-saving tactics becomes important and label printer is here to your help.
We all know that the typical printed cards looks indifferent and stiff, and that's why we like handwriting. But now as time and energy saving becomes important as well, why not try use the label printer with app to create newly individualized message? Try different types of tapes and explore the app to use various fonts, clip-arts, and emojis. Your DIY label-card will look even more fresh and fashioned than the handwritten ones people have been made for years!
Make your dinner sets special
Having a big dinner or holiday party with family and friends? Impress them with their name tags on the table! Or mark the dish names on the buffet table. Got some exotic special spices or doing a wine tasting? Label printer can help you with lots of things during this season of reunion and communal enjoyments.
There are white or transparent/clear labels to be chose from, depending on what kind of look you prefer. The laminated labels are waterproof and oilproof. The BPA free materials further make sure that they won't have any impact on food and drink safety.
Why not gift people with a label maker?
If you agree that label maker is quite useful in helping with gift wrapping and other festival works, why not do an early gifting and send a label maker to your closed ones who may share the same kind of situation with you? Start to use it early and try the different work it can do, not to mention that the label printers have even more versatile uses in our everyday life!